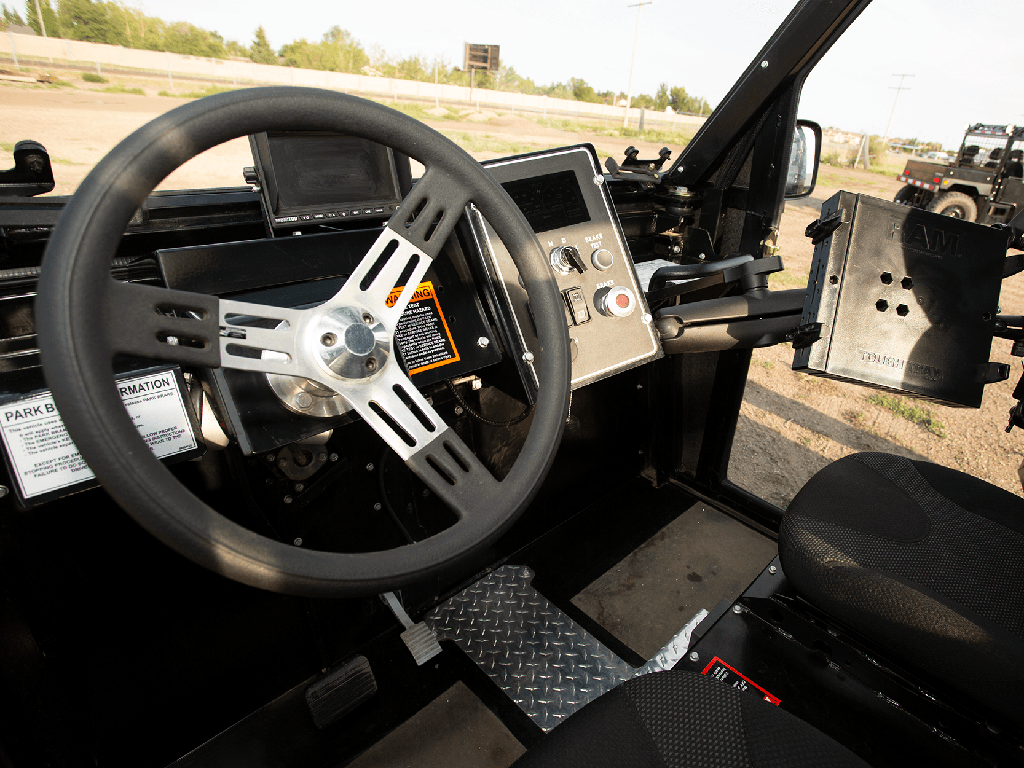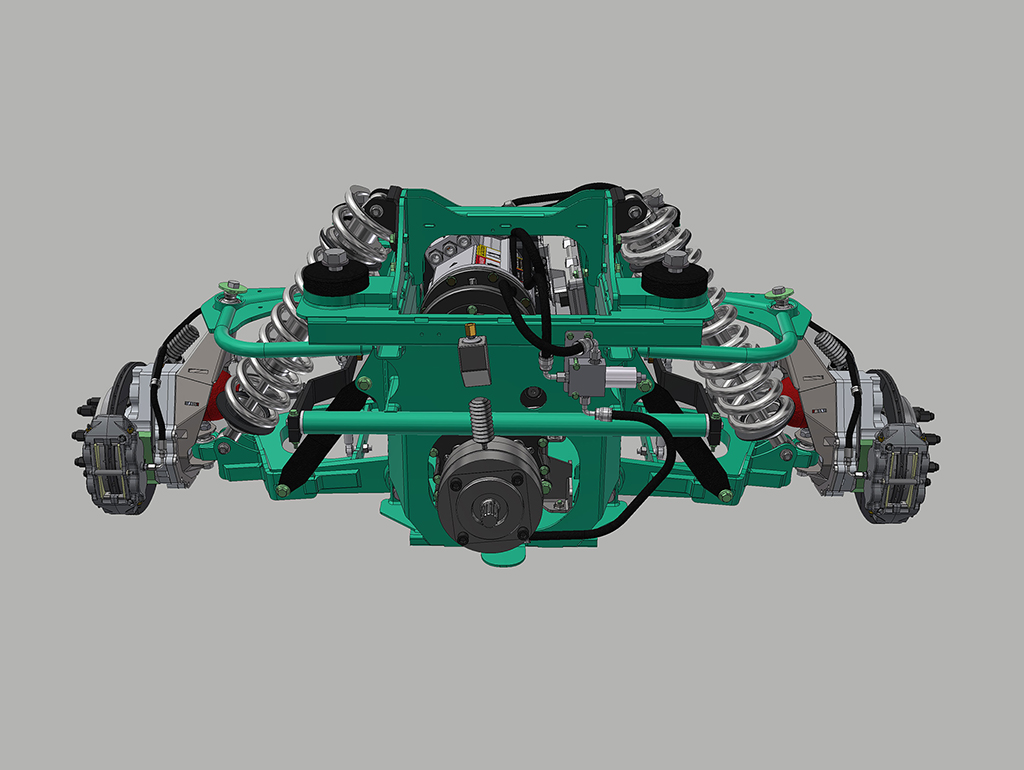 VEHICLE SAFETY SYSTEMS
Rokion trucks incorporate a number of safety systems and controls to ensure both operator and passengers are kept safe in extreme mining environments. Each truck is designed to withstand the severity of rough terrain, high temperatures, abrasive conditions, and corrosive environments. All our trucks are equipped with redundant control systems for safe operation during ramp descent. The trucks are also designed with sophisticated controls for the battery, drive, and charging systems.
All Rokion trucks are equipped with traction control, speed limiters, safety interlock systems (charge and drive interlocks), as well as seat belts, fail safe parking brakes, lighting systems and options for integrated backup cameras, safety strobes, and programmable LED lighting.
Our electrical systems can be shut down via main power disconnect (high voltage) and control systems disconnect (low voltage).
In future, Rokion trucks are will be equipped with control systems that allow for programmable drive parameters that change as the vehicle transitions through different operational zones. Our goal is to ensure Rokion trucks assist in promoting safe and efficient movement in all areas of the mine so your people can focus on their job with confidence and security.
ELECTRONIC SAFETY CONTROLS
Adaptive Speed Control
Adaptive Speed Control is also an important safety feature used to manage regenerative braking. This programming feature maintains equilibrium between battery charge levels, the brake resistor, and vehicle cooling system by managing vehicle speed. This operation ensures the vehicle maintains regenerative braking during ramp descent.
Speed control algorithms in Adaptive Speed Control are predetermined to allow for high torque/weight ratios without compromising safe vehicle operation. Torque is made available the instant it's needed, while acceleration and speed limiters prevent unsafe operation.
FUTURE / Adaptive Drive Parameters
(Zone or Area Specific Drive Parameters)
Different operational areas within the mine require different max speed limits. Variable speed parameters would be programmed into our Adaptive Speed Control software allowing the vehicle to regulate its speed as it moves through predetermined zones. Newly cut ground would suggest a lower speed to prevent damage to the vehicle, while primary routes would allow for a higher speed limit for rapid transit. Mines will have the ability to lower vehicle damage while increasing operational safety without having to rely on procedural controls.
BATTERY POWER & CHARGING
All of our vehicles are equipped with lithium iron phosphate battery technology (also referred to as LiFePO4 batteries).
This technology is the safest existing battery technology and SHOULD NOT be confused with lithium polymer, lithium cobalt or lithium magnesium battery technologies that can be unstable and hazardous to operate if not managed properly.
Unlike lead acid batteries, LiFePO4 batteries do not off gas during charge cycles. This eliminates the need to have special ventilation systems in place to deal with off gassing. LiFePO4 batteries are stable, easy to manage, require no maintenance and are a safe reliable energy storage device.
The battery module itself is made up of sealed battery cells that can be arranged to fit a variety of power requirements. The cells are not designed to be a user serviceable part and is sealed inside the Battery Module offering an additional, redundant level of operator and passenger safety.
The Battery Module is internally fused so that in the unlikely event of a short circuit, the fuse will open, safely isolating the power in the module. In this case the failed battery module would be swapped out for a new module and sent back to our facility for repair. This allows for the highest amount of safety for both operators and maintenance personnel and requires no special training or tools to replace a Battery Module.
Battery Management System (BMS)
All Rokion R Series trucks are equipped with a sophisticated battery management system (or BMS). This system is responsible for monitoring and controlling all power systems to ensure the utmost level of operator safety is achieved. These systems are constantly monitoring the battery system to protect it from excess charge or discharge current or voltage that might unintentionally be applied
The BMS is responsible for monitoring the battery module voltages, currents, temperatures, state of charge, and states of health of each individual cell as well as the battery module as a whole. If safety limits are exceeded the BMS will shut down either the load or the battery charger, whichever is causing the condition. Temperature is monitored and the vehicle discharge or charge state is controlled by the BMS as an additional safety feature. The current level of charge of the battery pack is also calculated by the BMS and is displayed on a gauge found in the User Interface Module along with indicators from the BMS for low battery pack and full battery pack conditions.
Battery Charger
There are three levels of safety redundancy when using the charger. First, the charger itself is not a typical lead acid battery charger; it is designed to be intelligent and detect any problems with the battery pack and shut itself down, if necessary. Second, the BMS monitors each cell as well as the pack as a whole and is capable of disconnecting the charger via a relay. Third, there is a relay that requires power in order for the charger to operate. In the event that control power is lost, the charger is disabled. Every effort has been made to ensure the system is "fail safe."
RAMP CONTROL SYSTEMS
RAMP PERFORMANCE
On ramp ascent, Rokion trucks can navigate a 20% grade at full GVWR at its maximum programmed speed over a distance of 13 km*, for a total vertical rise of 2500 m.
Down ramp, our battery powered trucks take full advantage of regenerative braking — descending ramps of up to 20% grade.
RAMP DESCENT
Regenerative Braking System
When driving down grade, the regenerative braking system uses the electric motor as both a motor brake and as a generator that transfers energy into the battery modules. Regenerative braking is activated by simply releasing the accelerator pedal while in motion, allowing the electric motor to slow the vehicle down while simultaneously charging its batteries.
Regenerative braking allows our battery powered trucks to descend ramps of up to 20% grade without the strain on braking and drive components.
Integrated Brake Resistor
During ramp descent, the regenerative braking system remains active even when the batteries are fully charged. The integrated brake resistor allows for this by bleeding energy from the battery modules in advance of incoming regenerative energy. The energy that the brake resistor bleeds off is converted to heat, which is either dissipated by the vehicle cooling system, or vented inside the vehicle.
Adaptive Speed Control
Adaptive Speed Control ensures that regenerative braking is available at all times. The speed of the vehicle is varied to maintain equilibrium between battery charge levels and the rate of energy discharge.
There is a limit to the amount of heat energy that the brake resistor can reasonably dissipate from fully charged batteries on a continuous ramp descent. As a safeguard, our vehicle control system uses sophisticated algorithms to limit vehicle speed in response to battery state of charge and vehicle temperature.
When the batteries are at a lower state of charge, they can absorb more regenerative energy. When the batteries are at a higher state of charge, Adaptive Speed Control takes over and gradually lowers vehicle speed. This action, in tandem with the brake resistor, ensures regenerative braking is maintained for the duration of ramp descent. Once the brake resister and cooling system are able to dissipate heat at a rate faster than incoming regenerative energy, Adaptive Speed Control gradually allows the vehicle to return to its pre-programmed max speed limit.
As the vehicle decelerates, the amount of regenerative energy produced by the electric motor is reduced, lowering the amount of energy the batteries must absorb. This action reduces the amount of energy the brake resistor must withdraw from the fully charged batteries in anticipation of incoming regenerative energy.
In addition to the regenerative braking system, standard service brakes and emergency brakes ensure operational safety on ramp descent.
RAMP ASCENT
Intelligent Power Delivery
On ramp ascent, Rokion trucks can navigate a 20% grade at full GVWR at its maximum programmed speed over a distance of 13 km*, for a total vertical rise of 2500 m.
Although these capabilities surpass the grade, distance, and depth found in typical ramp access mines, our goal was to engineer a truck that could climb any ramp in any mine. Rokion trucks have enough power to climb a 100% grade (45 degrees).
*Approximated — this distance would be sufficient for all but the longest ramps in the world.

Drawbar Force
Rokion trucks use electric motors and gearboxes designed for lower speeds and higher torque, which are ideal for mine application and ramp use. Conventional all-wheel drive trucks designed for pulling still compromise on torque and drawbar force to preserve speed and acceleration for legal road use.
Our trucks not only have a higher drawbar force, our power control systems provide intelligent power delivery and traction control for unmatched ramp navigation.
MODULAR PLATFORM ARCHITECTURE
Rokion R Series trucks are designed with a patented modular system for maximum serviceability Modules are simply interchanged when service is required, while one is being serviced, the other is in operation. This minimizes downtime and increases machine availability and provides value for the client.